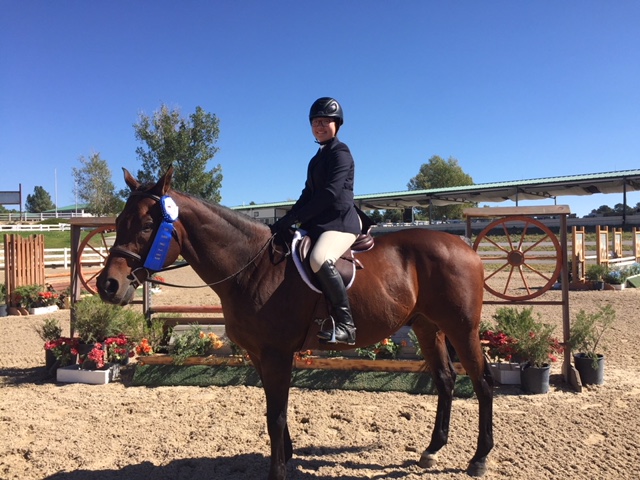 The Fall Finale show wrapped up Sept. 23 at the Colorado Horse Park amid many smiles and compliments. This show is the first step in CHJA developing a true season finale championship event.
"Our Fall Finale Show gave the membership a first glance at how a true year-end championship horse show would look for CHJA," said Tracye Ferguson, show manager and CHJA vice-president. "We got great feedback during the show. So many trainers and exhibitors have approached me since to tell me how much fun they had and how much the loved it!"
For months, CHJA's Strategic Planning Committee worked on the concept for the Fall Finale. It involved many moving parts and many volunteer hours to develop and execute. Sponsorship also was critical for the show's success. Those sponsors included:
Anne Moore/Kent Hill Farm
Canterbury Tack and Apparel
Capall Glen Show Stables
Charlotte Meade
Carol and Meg O'Meara
Full Circle Farm
Grant Muller/Spaces Real Estate
Heather Chenault/In Deo Acres
Jennifer Rhodes/Up and Over Farm
Jill Pelzel/Fall River Farm
Karen Banister/White Harvest Farm
Littleton Equine Medical Center
Mark Molther/Three Pines Farm
Nick McCombie/VHM woodworking
Riding Warehouse
The Steane Family
When asked about her favorite memory from the weekend, Tracye didn't hesitate to mention the Stirrups.
"What stood out for me the most was seeing the Stirrup riders getting to do  their victory gallops to music (we played 'We Are The Champions' by Queen) and the pure joy and elation on their faces was amazing!" she said. "I actually - and I am not kidding - got teary when I saw the Short Stirrup riders doing their tour pumping their fists!"
Plans are already underway for the 2019 show. Show photos are posted on Facebook and show results are at chja.org.