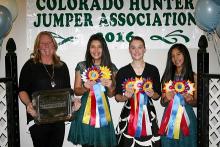 The CHJA Hunter Challenge program is a fun competition for horse/rider teams through which participants can earn year end awards and prizes. Specs for the program are as follows:
1)  Each team consists of three horse/rider combinations. Teams will select a Team  name and register their three horse/rider combinations  with the Hunter Challenge Coordinator at carolomeara@aol.com. A check for $30.00 per team should be made out to CHJA and mailed to:
 Carol O'Meara  8595 East Mineral Circle  Centennial, CO. 80112 -OR- 
Pay Online
2)  Each horse/rider combination can declare 5 Group I or Group II horse shows to count toward the team total.  The team members do not have to declare the same shows.  Any and all points earned in CHJA recognized hunter divisions at declared shows will count for that horse rider combination.
3). Horse Shows must be declared within 10 days following the completion of the competition.  Declarations are made by notifying the Hunter Challenge Coordinator via e-mail at carolomeara@aol.com. 
4) If a horse/rider combination becomes unable to compete due to lameness or illness, a substitution may be made by notifying the HC Coordinator by email.  Once a substitution has been made, the original combination can not be re-instated on any team competing in the Hunter Challenge.  Only two substitutions per team are allowed during the competition year.
5)  A rider may ride multiple horses on multiple teams or on one team, however, they may not ride more than two horses on any one team (thus comprising 2/3 of the team).
6)  A horse may be used by more than one rider on multiple teams or one team, but cannot be used with more than two riders on any one team (thus comprising 2/3 of the team).
7) Points will be counted equally for all classes/divisions.  1st - 10, 2nd -6, 3rd - 4, 4th - 2, 5th - 1, 6th - 1/2, Division Champion - 20, Reserve. Champion - 12.  If three or fewer horses are in a class/division, half points will be awarded.
8) Ribbons through 6th Place will be awarded at the Year End Banquet. The winning team will receive a perpetual trophy and prizes sponsored by the Colorado Hunter Jumper Foundation. 
Contact Carol O'Meara at carolomeara@aol.com or 303) 779-4963 with any questions.