CHJA Banquet Moves North to Denver Marriott Westminster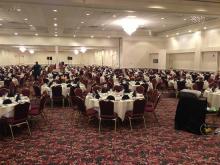 The CHJA Annual Awards Banquet and Silent Auction heads north to the Denver Marriott Westminster on Sat., Jan. 5 beginning at 5:15 p.m. The dinner buffet and silent auction will open at 5:30 p.m. Attendees will be called to their tables at 7:20 p.m. Awards will start at 7:30 p.m. and the Silent Auction will close at 8:00 p.m.
Champions will be receiving deluxe pullovers from Holloway. If you will be winning a champion prize, please consult the size chart available on the CHJA website prior to contacting Franci Martin at mtngirl09@gmail.com with your selection before Dec. 1 to guarantee you receive your desired size. These pullovers run true-to-size and there will not be any place to try them on in advance this year.
RSVP to the banquet here  through Dec. 28, 2018. And don't forget to submit your banquet photos by Dec. 28. You can upload up to five horse/rider combination photos directly to the CHJA website here.
Have a Silent Auction item? Contact Board Member Sarah Watson for details on how to have it included in our auction. SarahVwatson@gmail.com or (203) 470-4521.