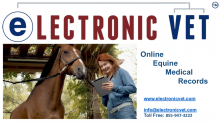 Safe | Simple | Secure
Technology. As reliant upon it as we are in every other aspect of our lives, is it missing in the equestrian industry? In 2014, Barbara Blasko, MD realized that paper documents containing equine medical records are most commonly produced for the purpose of competition entry, as well as general equine management. This problem leaves owners, trainers, riders and competitions vulnerable to losing the paper documents and/or the potential for falsification of any document. Thus, Electronic Vet, LLC ("eVet") was born.
Blasko is a lifelong equestrian based in California and training with Peter Petschenig. In her free time, Blasko is a practicing Emergency Medicine MD. It was her experience in the equestrian competition and human medical space that allowed her to see the eVet solution and swiftly create the online platform for safe, secure and simple show complaint equine vaccination certificates.
How Simple is eVet to use? It's as easy as 1, 2, 3:
eVet works by first allowing the user (owner, trainer, barn, and/or veterinarian) sign-up, and create a profile. By using your USEF number, data will auto-populate to ease the sign-in process. For a veterinarian, the inclusion of his/her license number acts as a verification step for security purposes.
Once you have your subscription entered, you are then able to easily add your horse(s) by doing just as you did for yourself. There is an integration which allows the user to enter a horses' USEF number and have most of the data auto populate.. You then enert horse markings, and you can upload photos to securely identify your horse.
Now that you and your horse(s) are entered, you can subscribe each horse and start using the features that allow you to:

Upload Documents- anything from vet records, pictures, or video.
Have your vet upload your horse(s) vaccination through his/her record management system, which is safe and secure.
Create your own eVet certified, show compliant vaccination certificate through the veterinary uploaded vaccination records.
Send your certificate to any competition prior to arrival for easy entry.
With eVet, your horses records are accessible 24/7 by anyone attached to your profile: riders, trainers, owners and veterinarians alike- making losing information impossible. eVet has also created secure portals for most major shows, which allows office staff to access your horses records directly, with no work at all from you! Breeze through competition entry and biosecurity, as well as keep you and your farm up to date and organized with eVet: safe, secure, and simple competition certified equine vaccination certificates. Sign-up today at www.electronicvet.com and begin your transformation into the digital world. Your horse(s), veterinarian, trainer, competition manager, owner or rider will thank you!