Junior Committee Ramps Up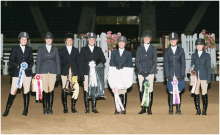 Submitted by Maggie Klau
For the 2018 show season CHJA, is revitalizing the CHJA Junior Committee. Alexia Honegger is our liaison with the CHJA Board Member. The junior committee consists of Jocie Wille, Maggie Klau, Tori Weed, Dominic Gibbs, Sammie Duray and Delaney Hamilton. We are working together to connect juniors all over the state of Colorado.
The committee members will try to represent all disciplines to the best of their abilities with hopes of bringing barns and riders closer together. Our goal this year is to sponsor grants to help a young riders in Colorado show and compete. The CHJA Junior Committee has been fundraising throughout the year in a variety of ways to raise money for these grants. Also we have recently just released our first grant application.  We hope many juniors apply. 
Be on the lookout for horseless horse shows, 50/50 giveaways, and much more this summer.  We are so excited for what this year holds!
Editor's Note: Follow the Junior Committee on Instagram at CHJA Juniors or look for their updates on the main CHJA Facebook page or Twitter feed.