Makiah Wentz Wins Inaugural CHJA Junior Rider Grant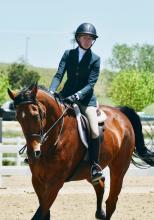 Makiah Wentz has earned the inaugural CHJA Junior Rider Grant presented by the Junior Committee. The grants are designed to help young riders in Colorado show and compete.
Makiah, who will be a junior at Pine Creek High School, trains with her mom, Amberlee, and her grandmother, Frances Nix. She competes in the CHJA Medals and equitation divisions.
She, along with other applicants, submitted an essay which was then numbered to ensure anonymity. These essays were read and evaluated by the Junior Committee and then by CHJA President Jill Pelzel.
"While there were a lot of great essays, " Jill said, "Essay #3 nailed the spirit of the award. I had a great time reading the essays, and had no idea who the actual winner was until I saw it today (on social media). Congrats, Makiah!"
The junior committee has been working hard to fundraise for these grants and will continue to do so, according to committee member Maggie Klau. More information o the grants and the Junior Committee is available on the CHJA website or by contacting Alexia Honegger, board liaison