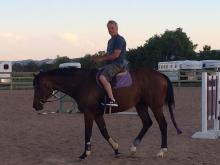 Father's Day has come and gone but we still want to honor our dads. Professional Stephanie Peterson is sure that there is no way she could have accomplished all she has with the help of her father, pictured above.
"My dad has supported my horse addiction my whole life even though he would have preferred I played a different sport. When I was a junior he was a wonderful groom and would help out and do whatever needed done at the barn for me and anyone else! He also instilled in me that hard work is the only way to success and that has stuck with me to this day. Now that I am an adult and professional he continues to help me by keeping my vehicles and tractors running as well as playing groom when he makes it to a show. He also still helps with the mental aspect of the sport and keeps me focused," she said.
Happy Father's Day to all our CHJA dads, granddads, stepdads and near dads!