Carol O'Meara Receives Lifetime Contribution Award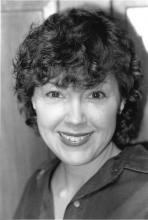 Carol O'Meara was honored with CHJA's Lifetime Contribution Award at our recent banquet in recognition for her years of service to CHJA in a variety of capacities including board member, committee chair, rules representative and more. The award is presented to a person or organization whose lifetime experience and accomplishments exemplify uncommon devotion to the sport of horse showing and whose equestrian career and horsemanship have continually elevated the sport.
The CHJA Newsletter sat down with Carol to talk about the award and what it meant to her to receive it.
CHJA: You've been a member of CHJA for a long time. How did you get your start? Carol: My first experience with CHJA was in 1995 when my daughter Meg started riding at the Group II Shows. Her trainers, Joanne Waring and Buzz Van Horn, made sure their riders were CHJA Members and that we Horse Show Moms were knowledgeable about show requirements, rules, point counting, etc. Within a year or two I started helping out in the Horse Show Office at the High Prairie Schooling and Group II shows, and under the tutelage of Carole Kenney learned to become a Horse Show Secretary. We did the shows on paper in those days, eventually moving to the computer programs in use today. It has been great getting to know the riders, trainers, show managers and horse show families over the years. It is hard to believe that some of the kids I knew as Junior Riders are now accomplished professionals!
CHJA: When did you start serving on the CHJA Board? Carol: In 1999 I was encouraged to run for the CHJA Board by Carole Kenney and Buzz Van Horn. It was natural for me to want to be involved at the board level as I have been active in professional nursing organizations since I graduated from nursing school in 1965. You might call me an "organizational junkie."
I began serving on the board in January 2000 and have continued to serve off and on. I became Rules and Specs Chair that first year and also served on the Banquet Committee and volunteered at Copper Penny and the Estes Park Horse Shows which were at that time the Silver Dollar Horse Shows. The Board had term limits in the past and I continued as Rules and Specs Chair even in the years I was not an actual board member. I became Show Standards Chair in 2007 and have continued in both of those positions.
In 2010, I was a primary organizer of the Colorado Hunter Jumper Foundation and currently serve as the Secretary-Treasurer of CHJF today. I serve on the Medal Finals and the Fall Finale Classic Horse Show Committees. When Laurie Grayson and the Licensed Officials Committee established the Rules Representative Program, I was honored to become a CHJA Rules Representative.
CHJA: In your opinion, what is the purpose of CHJA? Carol: The most important thing that CHJA does is to promote rider safety, proper caring for horses and good sportsmanship. Sanctioning and sponsoring horse shows provide us with the mechanism for doing this work, but it is not just about competition and year-end awards. It is about horses and horsemanship. In addition to our own work, CHJA founded and supports Colorado Hunter Jumper Foundation. CHJF provides educational scholarships, supports equine charities, provides achievement opportunities and makes available emergency financial support to individuals and families in the Colorado Hunter Jumper Community. Involvement with CHJF is a very important aspect of CHJA's work.
CHJA: Why should people belong to CHJA? Carol: It is important for people to belong to the association to support the work that I referred to above. This work requires member participation and financial support so that we can continue to accomplish our goals. CHJA: What was it like for you to receive this award and have it presented to you by your daughter? Carol: It was a tremendous honor to be presented with the Lifetime Contributions Award, and having it presented by my wonderful daughter made it all the more special. After all, Meg was the one who got me involved in CHJA! To be recognized by the Board and Membership, even though I am not a horsewoman, was especially meaningful. My involvement in CHJA has not been for my entire lifetime, but is has been a very important part of my lifetime, and I will cherish it always. I greatly appreciate being chosen for the award.
CHJA: What are your plans for the future? Carol: I plan to continue serving on the CHJA Board, as a Board Member and as Rules and Specs and Show Standards Chairs. I will also continue to work on Copper Penny, Estes Park Festivals, the Fall Finale and Medal Finals. I'll continue as a Rules Rep, Horse Show Secretary and on the CHJF Board. I would like to mentor new leaders as well. Depending on what happens with Meg and her riding, I might even be back at ringside as a Horse Show Mom where I started in 1995! My plan to retire at the end of this year after 46 years as an OB-GYN Nurse Practitioner will give me more time to devote to CHJA and CHJF and I am looking forward to many more years of service.