CHJA HOSTS ANNUAL AWARDS BANQUET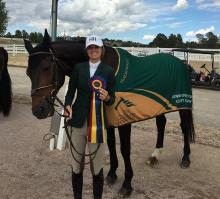 Accomplishments Honored, New Location Well-Received
The CHJA Annual Awards and Recognition Banquet moved north to the Denver Marriott Westminster and the move was quite well-received by members and supporters alike.
"We had really outgrown our space down south," said Awards Banquet Chair Franci Martin. "This location not only had the room but was so great to work with all throughout the process. We're excited about being here and the members are, too!"
Amateur rider Kristina Matthews was among those being celebrated. She along with her jumper Neolisto Van Het Merienhof receive the Bally Banion Adult Amateur Jumper Champion Trophy for an astonishing fourth year in a row. Quite a feat for an aged horse.
"Neo is 22 this year," Kristina said . "I thought I would have two good years when I first got him at age 17. We've accomplished so much these last four years I'm just going to let him dictate what we do. He loves to show, so we will try to concentrate on the classics and speed classes in the High AA Division." 
2018 was a phenomenal year for the pair. They not only topped the AA Jumper division but also were Zone 8 High AA Champions for the third consecutive year and the High AA Colorado Summer Circuit Champions for the fourth consecutive year.
The winning did end there. Kristina and Neo were the USHJA Zone 7/8 individual bronze medal winners and the anchors for the silver medal team at the USEF/USHJA Zone Championships.
She started riding at a very young age with the Dennehys at Arapahoe Riding Club and then moved to Randy Henry. She took a break from riding hunter jumper to try her hand at riding saddle seat, which she did from age 13 through college. She returned to the hunter jumper world after her graduation and now trains with John McConnell.
" I couldn't be happier riding with John," she noted. "He's challenging, honest, hard working and determined. He also makes me laugh. John brings out the best in me, especially in the show ring."
Aedan Mooney received multiple awards throughout the evening but her favorite was the CHJA High Point Junior Equitation Award. She commented on how proud she was to have won the award. "It made me feel like I had accomplished some of the goals I have been working toward regarding my position, strength and feel," she said. "I'm really thankful to be honored with this award -- and it's so cool to see all those other names on the trophy and to be a part of that group of riders. "
Throughout the 2018 show season, the Faith Christian Academy 8th grader had several mounts, all of whom Aedan maintains have helped her grow as a rider and competitor. Shining Star, or Sunny as he is known around the barn, is Aedan's first show pony. The pair went to USEF National Pony Finals for the first time this year and ended up 8th overall in the Medium Green Ponies. According to Aedan, when the stakes are high, he truly is a shining star. 
Royal Classic, otherwise known as Audrey, is a large German Riding Pony that Aedan got in July. The mare has her share of quirks but Aedan is exciting to be learning more about how to ride with more maturity by being "kind, clear and correct."
Aedan trains with her mom, Brannon Mooney, who also had a successful show season earning a reserve championship in the CHJA Green Hunters on Jaleo 04, Aedan's new mount. While Aedan enjoys riding with her mom, she admits that she sometimes feels a lot of pressure to do well.
" Riding with my mom is good but it's hard," Aedan says. "She's tough. And there is a lot of pressure being a trainer's kid. I am being held to high standard and I have to work hard to have a good reputation. But it leads to many experiences and opportunities. I'm really grateful to my mom.  She knows me really well and knows what I need so we communicate really well."   Sara Simpson was awarded the Farnley Fashion Trophy for winning the Pony of the Year Award aboard Elizabeth Simpson's Rollingwood's Q&A. Sara, who also had a fantastic outing at CHJA Medal Finals, rides with trainer Laurie Jueneman at Snowfield Farm.
"I set two goals for myself at the beginning of the 2018 show season," Sara began. "First, I had a dream of  participating in the CHJA Pony Medal Finals.  My second goal was to qualify for Finals by working hard during lessons and summer shows.  I do feel like I achieved my goals. I love my pony, I tried to be the best rider I could be, and together Quey and I are Champions!"
While her family has owned Quey since 2012 (her older sister, Elizabeth, won the Farley Fashion trophy in 2015), Sara is currently leasing a green pony named Royal Symphony.  She is looking for to achieving the same goals she set for herself in the coming year as well.
"I think the Pony Finals in Kentucky sound exciting!" she added.
Complete results are available at chja.org. The 2019 show season is underway. Make sure your membership is current so that you, too, can earn points and be honored at our banquet.