Got an Old Halter Lay'n Around?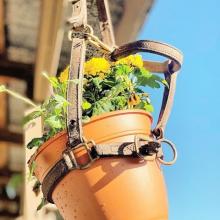 Can you join Rosie's Ranch and your local horse businesses and donate an old halter?
Rosie's Ranch will transform the old halter into a great learning horsemanship activity for all of our summer riders!
Rosie's Ranch,501(c)(3), provides an inclusive therapeutic riding program for children with special needs.
Tax Exempt# 98014013 Ranch phone:720-81-0927
What does INCLUSIVE mean? Rosie's Ranch provides therapeutic riding for children with special needs, who join friends without special needs. Together they team up with a horse. It's a supportive environment joining all children …teaching character, diversity and acceptance while learning to ride and enjoying horsemanship instruction.
There's lots of FUN & LEARNING for everyone.