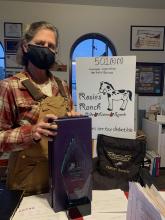 The Kris McConnell Award is presented annually by the Colorado Hunter Jumper Foundation. The award is given to a CHJA member who has provided outstanding service to a charitable organization. The award includes a donation to the charity in honor of the recipient. CHJF was pleased to present the 2020 Kris McConnell Award to Mary Stathes for her work with Rosie's Ranch.
Mary is a Lifetime CHJA Member. She dedicated 40 years to educating children with deafness and helping them listen and speak. She received numerous state-wide and national awards for her work. In her retirement she and her husband built Rosie's Ranch, a very special equine facility for children. Rosie's Ranch provides an inclusive therapeutic environment where children, with and without special needs, are able to connect with an equine partner and each other, under the guidance of qualified staff, building self-confidence, literacy, and language skills through educational and equine assisted activities.
When she was informed about the award, Mary said: "I thank the CHJF for this prestigious acknowledgment, their trust in the future of "Equine-assisted Services" and their continued support of the essential benefit that is provided to hundreds of children annually by the 4-legged gentle partners at Rosie's Ranch." CHJF congratulates Mary, and thanks her for all her work with Rosie's Ranch.