LAURIE GRAYSON RECEIVES BETTY WEBER SERVICE AWARD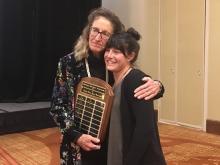 It was an emotional scene for everyone when Tyler Grayson took to the stage to present her mother Laurie with the Betty Weber Award. The winner of this award is nominated by the membership and selected by the Board of Directors. It acknowledges uncommon and ongoing service to CHJA. Laurie is the tenth person to receive it.
We talked to Laurie about the award, her experience in CHJA and what it all has meant to her.
CHJA: You've been a member of CHJA for a long time. You also have served on the board at various times throughout your career. What are some of the highlights of that experience?
LAURIE: I first started participating on the board around 1986. (I know, right? Longer than most of you are old.) At this time, we had no paid positions.  I was in charge of rules and specifications, which included but was not limited to also being the point counter. At this time, it was all done by hand on paper.  It was a huge job and I completed this task for roughly five years.
At the time, membership was also included in the point counting job title. Even as computer illiterate as I was, I strongly urged the board to purchase a computer and have all this tracking saved on it. This would no longer be my assignment as I knew very little about computers.
The next task I moved onto was show standards at which point we developed a system to hold CHJA shows accountable in order for them to receive CHJA recognition. This included making sure they had completed the appropriate paperwork, gotten schedule change permission, hired rated stewards, remained accountable for start times, etc. I implemented a deposit fee to hold the shows and get CHJA approval. I have always tried hard to stay on top of rule changes and to keep CHJA rules in line with USEF rules. 
Most recently, I have served as the treasurer and been a part of the executive committee. What a great experience and education!  I also recently started an officials committee and we have worked out a system for designating rules representatives to help our rated stewards since we do not have enough rated stewards to cover all the CHJA shows. We are also working on how to help further the education for our local non-rated judges.
CHJA: That longevity in our sport is admirable. You know Betty personally. Tell us about your relationship.
LAURIE: I first meet Betty when I went to work for Dion (Dana) and Polly (Brown) at the old Hillcroft Acres in Golden. Betty was a great horse show mom of a very talented junior rider, Dana Weber. Betty would always bring Betty Weber brownies to medal finals.
When she became more involved as a CHJA volunteer and less as a horse show mom, she shared the recipe with me. I only upheld the tradition for a few years and then medal finals got too big to make brownies for everyone. Dana kind of got interested in other things and quit horse showing , but Betty loved CHJA and all its people and continued to volunteer for anything and everything even after her daughter lost interest.
I am honored to follow in her footsteps, however. She was truly an outstanding volunteer.
CHJA: Your daughter Tyler presented you with this award. What was that like for you?
LAURIE: Carol O'Meara and I spoke after accepting our awards. We were both so proud to have our daughters present our awards. It was amazing for all of us. I was so chocked up I could barely say thank you. Thank you it is, though, and thank you to Tyler for presenting to me. She continues to teach me something every day. I am so grateful and privileged to get to work with such a dedicated and amazing person every day!
CHJA: Did you know you were going to receive this award?
LAURIE: I knew I had been nominated for this award but then didn't really think about it until the banquet night when someone told me my name was in the book. I was very surprised to have Tyler present it to me.
CHJA: You are taking a break from Board service. What's ahead for you next?
LAURIE: I plan on remaining the chair for the officials committee  and furthering education for trainers and officials. I will also remain on the rules and specs committee with Carol O'Meara and I will continue giving support to the equitation committee. Who knows? I might even have to make Betty Weber medal final brownies this year for all to enjoy!
Once again, thank you CHJA! You have taught me a lot!