New Ruling for CHJA Unrated Judges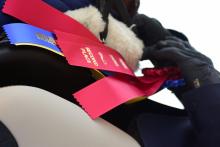 All unrated Colorado judges will need to fulfill at least four of five criteria to judge for CHJA. Join us at the Denver Judges clinic December 8th, 2019.
The CHJA Board of Directors and CHJA Officials Committee have added new criteria for CHJA judges for the 2020 show season. Judges for 2020 will have to be approved by the Officials Committee and will have to meet 4 of 5 criteria established by the Officials Committee in order to be approved.
Please find the five criteria below:
Criteria of Judges
Passed a written test with an 80% and above - can be open book
Have been working in the industry for 2 (two) years minimum
Have attended a judging clinic within the last 3 (three) years
Provide 3 (three) references, also from within the Hunter/Jumper Industry
Be an Active and in Good Standing CHJA Member
One of the five criteria is to attend a judging clinic. There will be a judging clinic for "R" judges during the USHJA Convention in Denver on December 8, 2019. The clinic has been graciously opened up to the public to audit for a minimal fee. It is $40 if you'd only like to audit, and $70 if you would like to have dinner included.
Please note that you do not have to be interested in judging in order to attend the clinic on December 8th. This is an incredible opportunity for anyone and we encourage all CHJA members to attend!
You can register for the clinic by following the steps below:
Select "Registration" by Denver, CO 'R' Section Only
Scroll down, select "2020 Denver Hunter and Hunter/Jumping Seat Equitation Judges Clinic"
It will then offer you the ability to select whether you want to Audit, or Audit with dinner (Select one)
Hit continue at the bottom
Submit Payment
Questions? Please contact Laurie Grayson at 303-579-3837