WENTZ, STONE WIN SPECIAL YEAR-END HONORS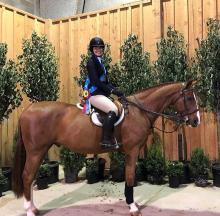 Amateur equitation rider Jessica Stone, who trains with Sarah Watson, received the Marvin W. Luttges Adult Amateur Sportsmanship Award.
"It was an absolute honor to win this award," Jessica said. "The speech Kristina McCombie made truly touched my heart.  It's an amazing feeling to win classes at shows or win at Medal Finals, but this win was extra special."
Jessica believes that in our highly competitive and expensive sport it can be easy to lose sight of why we do it and that's for the love of the horse. She maintains that her passion for horses and riding hasn't diminished over the years since she first began riding at the tender age of five. And she appreciates that she gets to continue riding and showing even though the demands of her job at times make it hard to fit everything in.
"Like all sports, there are so many ups and downs.  It's OK to be competitive and want to win, I feel that way every time I step in the ring," she said. "But, no matter what happens in there, you have to remember to thank your horse and congratulate your competitors.  Our horses do so much for us and our competitors push us to be better every day."
Jessica plans to compete in the Adult Equitation and Adult Medals for the 2019 show season.  Since she always competes on borrowed horses, she'll probably compete on several different ones this year.    
The Marv Luttges Award has been presented by CHJA since 1994. Named for one of our association's beloved amateur riders, this award is given annually to the CHJA adult amateur rider who be exemplifies Marv's attitude toward the sport he so loved.
Professional rider Amberlee Wentz was honored to win the Keiri Kaneps CHJA Professional Hunter Rider award, especially because it meant she had been selected for it by the CHJA.
"I knew Keiri as a junior and young professional," Amberlee said. "I always loved watching her! She was a gifted rider that could always get the best out of her horses! She always had a smile and kind words for both horses and humans."
The Keiri Kaneps Professional Hunter Rider of the Year Award recognizes a professional hunter rider who exemplifies the integrity, horsemanship and beautiful riding skills that made Keiri so special.