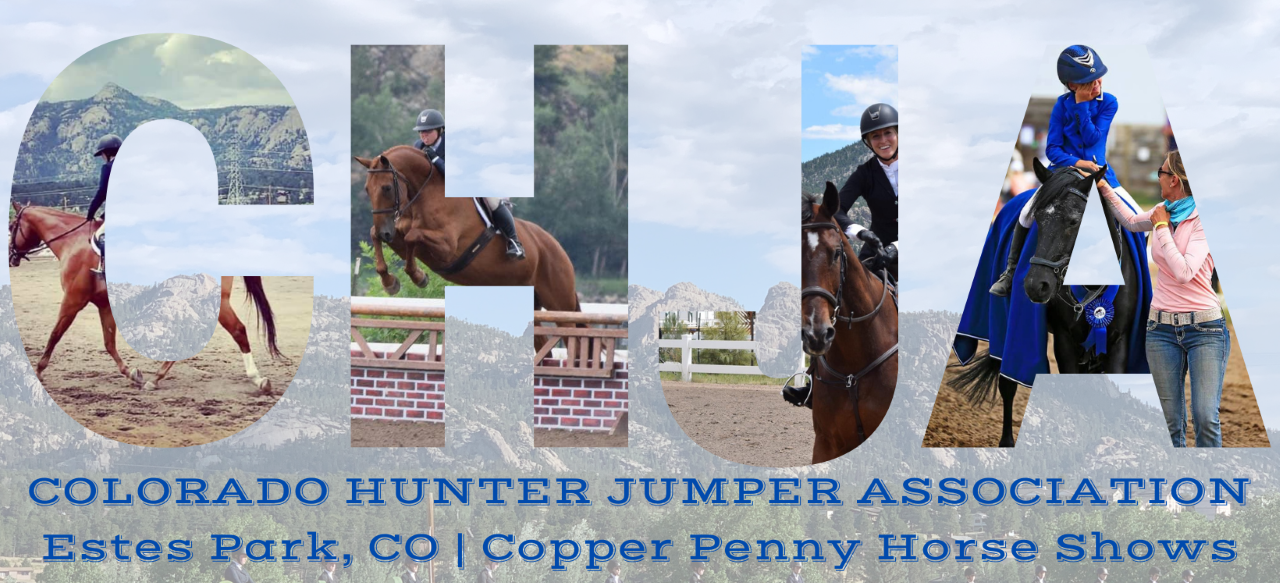 About Copper Penny Horse Shows
The Colorado Hunter Jumper Association (CHJA) Copper Penny I & II Horse Shows are the flagship shows of the Colorado Hunter Jumper Association and take place in the beautiful mountain town of Estes Park. This resort destination sits at 7,500 feet in the Rocky Mountains and boasts summer temperatures of 79 degrees during the day and 49 at night, a far cry from the stifling heat along the front range in Denver and surrounding areas. The facility, Estes Park Events Complex, is set-up to handle four show rings with several warm-up areas. There are permanent stalls, ranging from the 12'x12' stalls in the new pavilion building to the 16'x16' stalls in the old white barns. Lots of fun, great hospitality and unrivaled customer service are the trademarks of the Estes Park Horse Shows.
More Information and Forms
Collman Equestrian Productions, Inc. is proud to be the production and management company for the Estes Park Horse Shows owned by the Colorado Hunter Jumper Association.
Important Reminder About Health Certs & Coggins For The Estes Park Shows
Horses coming to the Copper Penny Horse Shows in Estes Park that reside in Colorado will only be required to have a standard 30 day Health Certificate. Horses coming from outside of the state of Colorado (except California) will need a standard 30 day Health Certificate as well as a Negative Coggins. Horses coming from California will need the above, plus a statement on the Health Certificate that they have been specifically checked for and show no signs or symptoms of Vesicular Stomatitis (VS) along with a five day temperature log immediately prior to arrival. This log must include temperatures taken twice daily for the preceding five days prior to arrival. If any reading exceeds 101.5 degrees, the horse will not be allowed on the grounds. Equine health is all of our responsibilities and horse show management appreciates everyone's cooperation in keeping our equine athletes healthy.
IMPORTANT NOTE: Show management reserves the right to amend this requirement at any time (shorter time span on the health certificate, additional paperwork or testing requirements, etc.) in the event of an outbreak or any incident that would jeopardize the health of the horses leading up to andthroughout the duration of the shows.